Facebook Success Summit 2010
Starting October 5th (through the entire month)
Have you heard about
Facebook Success Summit 2010
—the web's largest online Facebook marketing conference?
Before I tell you how this virtual summit will help you achieve Facebook marketing success, let me share a story with you.
PROOF FACEBOOK WORKS…
In February 2010, Michael Stelzner (the guy who founded Social Media Examiner) started dabbling with Facebook for his company.  Almost overnight, Facebook became his number-one source of traffic.
In just 5 months, he grew an active Facebook community of more than 11,000 fans, nearly tripled his email subscribers to 30,000+ and doubled his site's monthly page views to more than 300,000.  Alexa ranks his website as one of the top 2800 in all of America!  And the crazy part is his business is just a baby (it was only founded 10 months ago).
He didn't advertise, didn't rely on the press and almost none of his traffic comes from search engines.
This all took place using the power of social media and specifically Facebook.  These kinds of results would've cost him a fortune in the past.  He didn't spend a dime on advertising, just his time.
Now the connection…  Facebook represents a new marketing frontier because it bypasses all the costly middlemen and allows you to rapidly connect AND engage with your customers and prospects! AND this presents an enormous opportunity for you.
SO WHAT'S THIS ABOUT?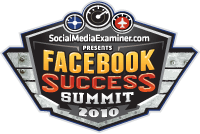 Michael (and his team) have been working for months to bring the best minds in Facebook marketing together in a fully online event called Facebook Success Summit 2010.
2500 marketers and small business owners from around the world attended his last summit.  It was a smash hit.  Businesses were transformed.  In fact, 95% of attendees said they'd attend again.
This summit's focus is to empower you to implement successful Facebook strategies, grow a loyal following and learn from other successful businesses.  You'll also discover how to use the full power Facebook to attract high-caliber customers and grow your business during this economic slump.
Not only can you gain amazing exposure for your business, you'll also be able to quickly implement effective Facebook marketing tactics, attract great customers and prospects and gain a unique competitive advantage.
Twenty-two of the world's leading social media superstars will be summit instructors.
Join Brian Solis (author, Engage!), Mari Smith (author, Facebook Marketing: An Hour a Day), Jesse Stay (author, FBML Essentials), Paul Dunay (author, Facebook Marketing for Dummies), experts from Intel, Microsoft Xbox, Cisco, SAP and the Washington Redskins; Darren Rowse (author, ProBlogger), Jay Baer (author, The Now Revolution) and Michael Stelzner (Social Media Examiner)—just to mention a few.  Together this team of "who's who" in Facebook marketing will help you succeed using practical tactics.
This is the world's largest online Facebook event designed to empower marketers and small business owners to master Facebook marketing.  And the great news is it's a live online conference you can attend from your home or office.
Here's to your success!
-Darcy
P.S. You can get 50% off if you act now.  Twenty-two successful Facebook pros will show you how to use Facebook to market and grow your business.  Be sure to check out the lineup.
Remember, the experts teach the sessions live (and it's all online).  So you don't need to leave your home or office! Go here to see how this works.
P.P.S. As a way of saying "thanks" for checking out the summit, there's a gift just for marketers called "Optimizing Your Facebook Fan Page for Profits" (valued at $59) waiting for you.  Go get it here.
Filed under: Uncategorized
Like this post? Become a Premium Subscriber and get loads more!